Committee of Six: Screening and Public Discussion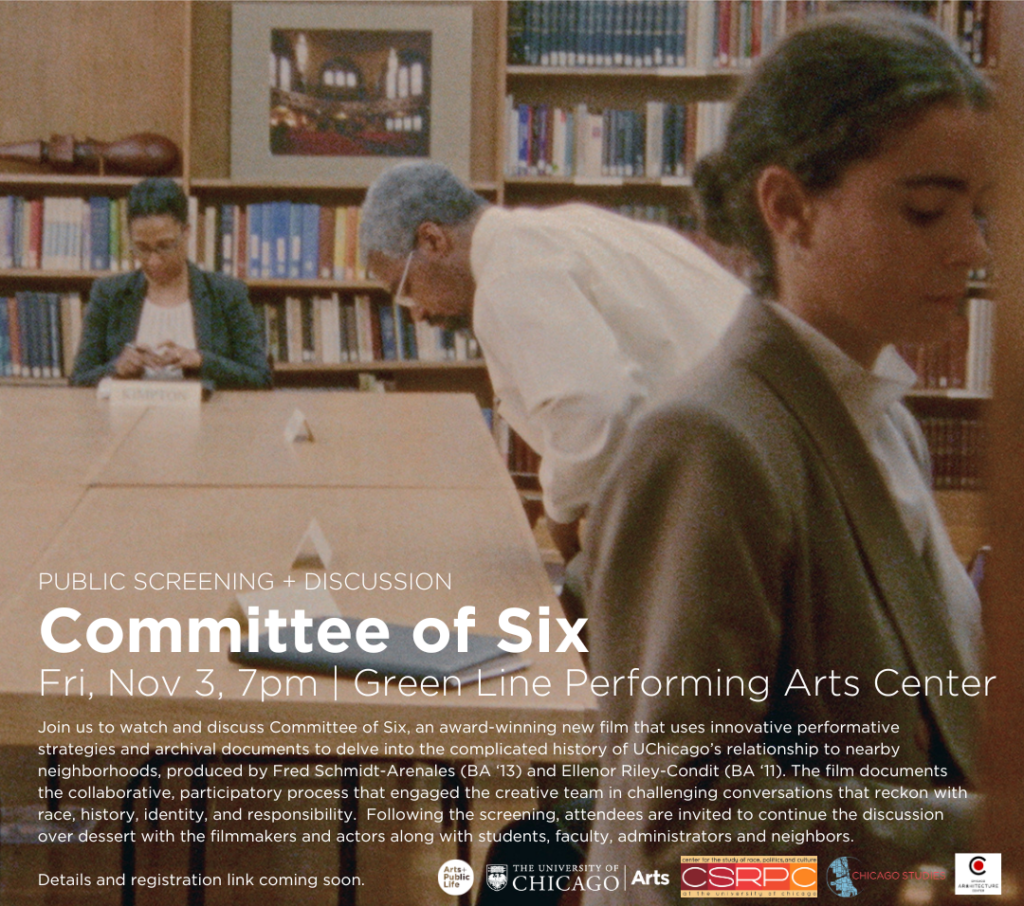 About the program
Join us to watch and discuss Committee of Six, an award-winning new film that uses innovative performative strategies and archival documents to delve into the complicated history of UChicago's relationship to nearby neighborhoods, produced by UChicago alums Fred Schmidt-Arenales (BA '13) and Ellenor Riley-Condit (BA '11). Committee of Six was previously screened at the Chicago Architecture Center as a part of the Architecture and Design Film Festival.
The film documents the collaborative, participatory process that engaged the creative team in challenging conversations that reckon with race, history, identity, and responsibility.
Following the screening, attendees are invited to continue the conversation over dessert with the filmmakers and actors along with students, faculty, administrators and neighbors.
"Committee of Six is an enactment of archival meeting minutes held at the University of Chicago. The meetings took place in 1955 between community leaders and University officials for the purpose of creating an "Urban Renewal Program" for the neighborhood of Hyde Park, situated in the south side of Chicago. The film documents the process of a group of performers, academics, residents, and activists interpreting the archival documents. The film invites comparison between the language of the past and the contemporary reality of gentrification and racist real estate practices in Chicago." (Fred Schmidt-Arenales, 2022, 40:11 minutes) View the film trailer here.
FILMMAKERS:
Director Fred Schmidt-Arenales is an artist and filmmaker. His projects attempt to bring awareness to unconscious processes on the individual and group level. He has presented films, installations, and performances internationally at venues including SculptureCenter and Abrons Arts Center, (New York), Links Hall (Chicago), The Darling Foundry (Montreal), LightBox and The Institute of Contemporary Art (Philadelphia), Artspace (New Haven), The Museum of Fine Arts and FotoFest (Houston), Künstlerhaus Halle für Kunst und Medien (Graz), and Kunsthalle Wien (Vienna). His recent film Committee of Six is an official selection of the 2022-23 Architecture and Design Film Festival and was awarded a jury prize for best film at the 2023 Onion City Experimental Film Festival. Schmidt-Arenales holds a bachelor's degree from the University of Chicago and his master's in fine arts from the University of Pennsylvania.
Ellenor Riley-Condit works at the intersection of performance creation and liberatory praxis. As a performer, director, producer, and facilitator she often works between roles in a process to co-create a vision that prioritizes both artistic rigor and collective care. She is a member of The Syndicate, a network of artists producing new plays, performances, and events by women, queer, and trans people. Recent projects include: Committee of Six (experimental documentary, creative producer/ performer), Then We'll Rest (new play workshop production, performer), OH, BUDDY (staged reading/development process, director/performer), The Trojan Women (director). She is an organizer with Calling Us In, a national network of creatives bringing anti-racist education and action to theater and performance communities, and a member of Education for Racial Equity's 2023 cohort in Somatic Abolitionism, which works to grow white peoples' capacity for addressing white body supremacy. She teaches at Vassar's Powerhouse Theater Training Program. She is pursuing a PhD in Performance as Public Practice at UT Austin. MFA: Goddard College. BA: University of Chicago.
Presented by Arts + Public Life and the Center for the Study of Race, Politics and Culture, with support from the Chicago Architecture Center and Chicago Studies in the College at University of Chicago