Vyjayanthi Rao and Kush Badhwar with Sagarika Sundaram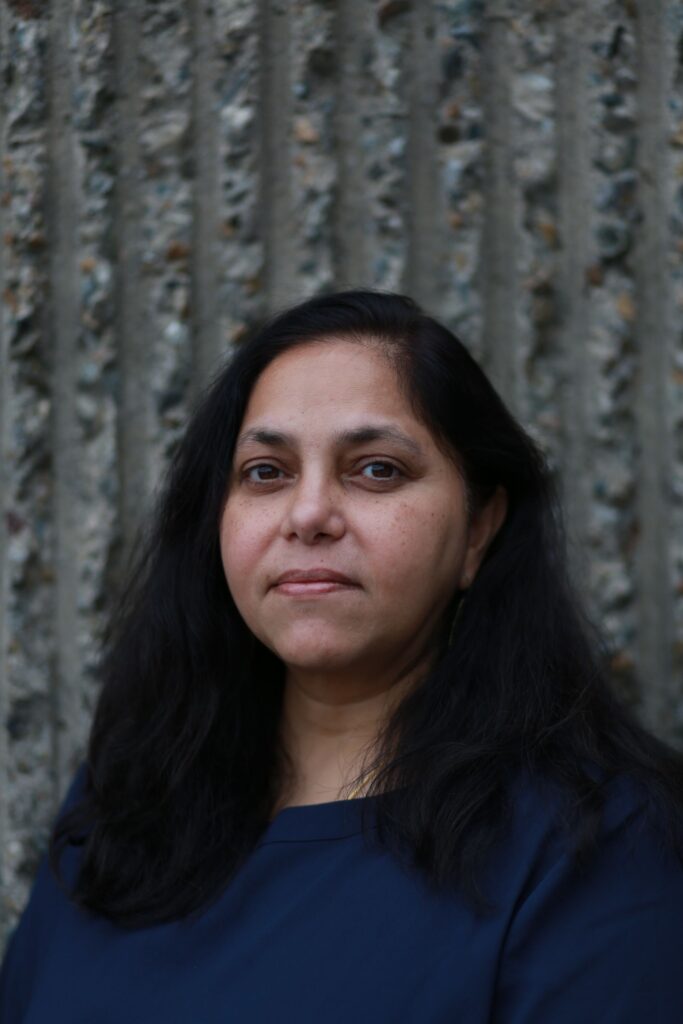 New York, United States
Website
Vyjayanthi V. Rao (b. 1967, Mumbai, based in New York) is an anthropologist, writer and curator, teaching at the Yale School of Architecture. Focusing on memory, heritage and the built environment, her work explores the intersections of violence, uncertainty and speculation as situated processes through scholarly writing and artistic collaborations based on fieldwork in India and the United States. Her research draws on sound, image, mapping and experimental forms of writing.
Kush Badhwar is an artist and filmmaker operating across media, art, cinematic and other social contexts. He is interested in the ecology of sound and image across stretches of time and political change. He believes in the potential of research and collectivity. To this end, he has worked closely with wala, Word Sound Power, Frontyard Projects and Khanabadosh. Selected screening or exhibition of his work includes at the Addis Video Art Festival, the 65th Flaherty Seminar, Five Million Incidents, Images Festival, Video- brasil, Forum Expanded, Berlinale, MUBI and e-flux. He has also undertaken Pad.ma's Fellowship for Experiments with Video Archives, India Foundation of the Arts' Archival Fellowship and Künstlerhaus Büchsenhausen's Fellowship Program for Art and Theory.
Sagarika Sundaram is an artist creating sculpture, relief works and installation using raw natural fiber and dyes. Drawing extensively on natural imagery, the work meditates on the impossibility of separating the human from the natural and the interior from the exterior, suggesting the intertwined nature of reality. In 2023, Sundaram exhibited at the Al Held Foundation, the Moody Center for the Arts at Rice University, and the British Textile Biennial. In 2024 she will participate in Bronx Calling: The Seventh AIM Biennial at The Bronx Museum of the Arts. Sundaram's debut solo exhibition runs from November 3, 2023 – February 4, 2024 at Palo Gallery, NYC. She is Visiting Assistant Professor teaching at Pratt Institute, and Senior Fellow at Silver Art Projects, NYC.
Chicago Cultural Center
Address
78 East Washington Street, Chicago, IL
Neighborhood
The Loop
Description
The Chicago Cultural Center serves as one of the main exhibition venue sites for CAB 5 Chicago, featuring projects from more than 80 participants from about ten countries. 
Opened in 1897, the Chicago Cultural Center is a Chicago landmark building operated by the Chicago Department of Cultural Affairs and Special Events and is home to free cultural exhibits and programming year-round.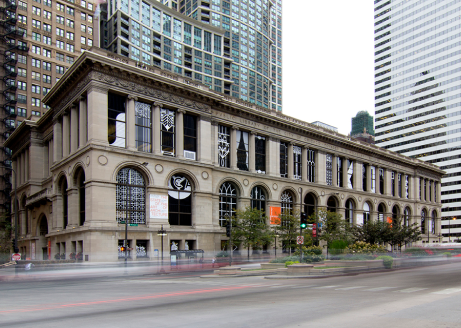 Project Overview
Monumental Returns
Monumental Returns is a film-based installation that traces the  spatial, social and cultural experiences of displacement and slow  violence in the wake of a mega-dam project in the Southern Indian  state of Telangana. The construction of the dam led to the  inundation of around one hundred villages and the displacement of  one hundred and fifty thousand people following the submergence  of their homes. More than a hundred monumental temples,  deemed to be culturally significant, were rescued from inundation  after a complex salvage and conservation process. In these twin  displacements—of people and of monuments—violence and hope  are woven together in surreal ways around the dam's submergence  zone, where the recurrent, seasonal recurrence of submerged  villages with their mundane and monumental remains are integrated  with reconstructed villages and the monuments rescued through  archaeological processes. 
Working experimentally with archives gathered by three generations  of researchers, Monumental Returns reflects on how spatial  experience is conditioned where forced displacements have occurred,  past remains an unsettled and unsettling terrain, and different  currents of recollection found in monumental, nationalist histories  coexist with the submerged local histories. Monumental Returns is  also an exploration of how knowledge practices are enfolded  into the visualization of violence and create the conditions for its  naturalization. The installation challenges this naturalization through  formal techniques—integrating photographs, moving images, and  recorded voices within a temporary structure fashioned from felt by  the artist Sagarika Sundaram—to create an experience that amplifies  submerged violence. Threading between Chicago and its distant  others, Monumental Returns proposes a platform for creating  solidarities and dreaming different futures at the planetary scale.