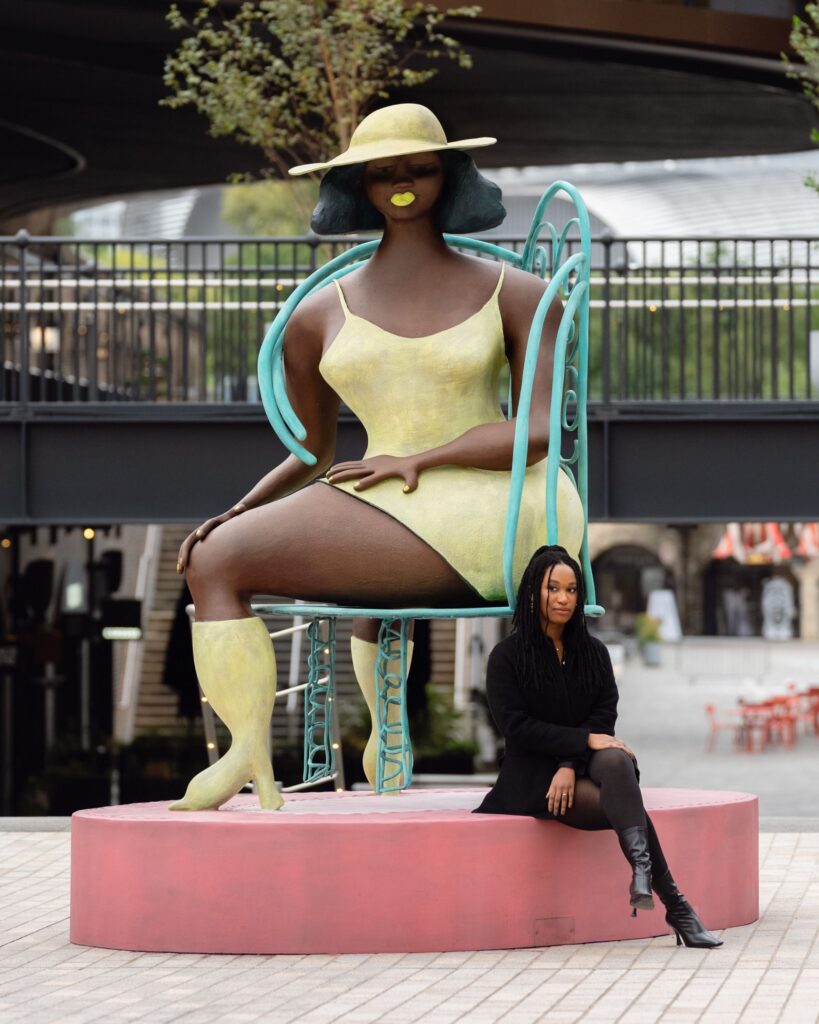 New Haven, United States
Website
Tschabalala Self (b.1990 Harlem, USA) lives and works in the New York Tri-State. Tschabalala is an artist and builds a singular style from the syncretic use of both painting and printmaking to explore ideas about the black body. She constructs depictions of predominantly female bodies using a combination of sewn, printed, and painted materials, traversing different artistic and craft traditions. The formal and conceptual aspects of Self's work seek to expand her critical inquiry into selfhood and human flourishing. Recent solo and group exhibitions (public and institutional) include: Desert X 2023, Palm Springs (2023); Kunstmuseum St. Gallen, St. Gallen(2023); Le Consortium, Dijon (2022); Performa 2021 Biennial New York City, New York (2021); Haus der Kunst, Munich (2021); Kunsthalle Düsseldorf, Düsseldorf (2021); Baltimore Museum of Art, Baltimore(2021); Centro Pecci Prato, Prato (2020/21); ICA, Boston (2020); ArtOmi, Ghent New York (2019); Studio Museum Artists in Residence, MoMAPS1, New York (2019); Hammer Museum, Los Angeles (2019); Frye Art Museum, Seattle (2019); Yuz Museum, Shanghai (2018); The Beyond: Georgia O'Keeffe and Contemporary Art, Crystal Bridges Museum of American Art, Bentonville (2018); Trigger: Gender as a Tool and a Weapon, New Museum, New York (2017); Tramway, Glasgow (2017); Parasol Unit Foundation for Contemporary Art, London (2017); Desire, Moore Building, Miami (2016); A Constellation, Studio Museum Harlem, Harlem (2015).
Chicago Cultural Center
Address
78 East Washington Street, Chicago, IL
Neighborhood
The Loop
Description
The Chicago Cultural Center serves as one of the main exhibition venue sites for CAB 5, featuring projects from more than 80 participants from ten countries. 
Opened in 1897, the Chicago Cultural Center is a Chicago landmark building operated by the Chicago Department of Cultural Affairs and Special Events and is home to free cultural exhibits and programming year-round.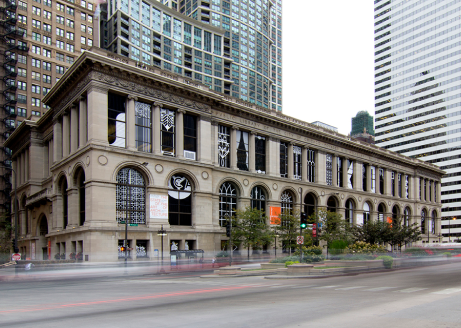 Project Overview
Yellow Legs on Milk Crate No. 2
Tschabalala Self's current body of work is concerned with the  iconographic significance of the Black female body in contemporary  culture. Her work explores the emotional, physical and psychological  impact of the Black female body as an icon, and is primarily  devoted to examining the intersectionality of race, gender and sexuality.  Collective fantasies surround the Black body and have created  a cultural niche that holds our contemporary understanding of Black  femininity.
Self's practice is dedicated to naming this phenomenon.  The emotional, physical, and psychological implications of the  figure's fashioning gives way to existential concerns. In each work,  a tension exists between foreground and background that mirrors  the character's position in the larger social context. As silhouettes  emerge and disintegrate into the pictorial plane, the politics  of identity jump to the surface. Shown in unison, the characters,  articulated through stitch and textile assemblage, create a community  and hold space for varied iterations of a shared experience. The  fantasies and attitudes surrounding the Black female body are both  accepted and rejected within her practice, and through this dis – orientation, new possibilities arise.
Self attempts to provide  alternative, and perhaps fictional, explanations for the voyeuristic  tendencies towards the gendered and racialized body; a body which  is both exalted and abject. She aspires to hold space and create a  cultural vacuum in which these bodies can exist for their own  pleasure and self-realization, free from other's assertions and the  othering gaze. She hopes to redirect misconceptions propagated  within and projected upon the Black body. Multiplicity and possibility  are essential to Self's practice and general philosophy