Chicago, United States
Website
SpaceShift is a creative hub for experimentation and possibility nestled inside neighborhoods. Recent projects have focused on Devon Avenue, to practice and play within Chicago's culturally dynamic South Asian enclave.In 2021, 'Aao Mil Baithen' activated the corner of Devon and Talman through games, open mics, storytelling circles, concerts and dance battles, inviting curiosity and participation by an intergenerational community often separated by class, religion, caste, and nationality. In 2022, SpaceShift conceived and launched 'starlight', a temporary arts space in partnership with Northwestern University's Race, Caste, and Colorism project. Starlight featured six artists exploring opportunities for Black and South Asian solidarity in an experimental community-facing residency on the block. In under two months, a vacant store-front was transformed into an artist workshop, evolving installation and pop-up community arts center with 45 programs and over 1,000 participants. In 2023, in collaboration with Chicago Architectural Biennial, SpaceShift will launch an interactive public art installation exploring the rich planting traditions from South Asia that migrated to Chicago along with its people and their connection to local forms of growing knowledge and wisdom. Comprising an evolving collective of artists and cultural workers, SpaceShift reimagines how people live, work and make together, in our most just and joyful future.
Good City Group
Description
Formed in March 2013, the Good City Group came together around the idea of how the "good city" can inform our roles as civic innovators who care deeply about Chicago's future.
The group was born out of a collective desire for cross-disciplinary, experimental proposals that affect our everyday experiences. We explore inventive, equitable approaches to placemaking, urban design, and environmental justice at the hyper-local scale that can have a big impact for residents.
We come from diverse practice areas with a central premise that design professions should be integral collaborators with the community, planners, and policymakers to envision and implement strategies for healthy, resilient cities.
We operate with inclusivity and respect through projects created collaboratively in the public interest that foster a sense of community agency, shared meaning, and shared ownership of public space.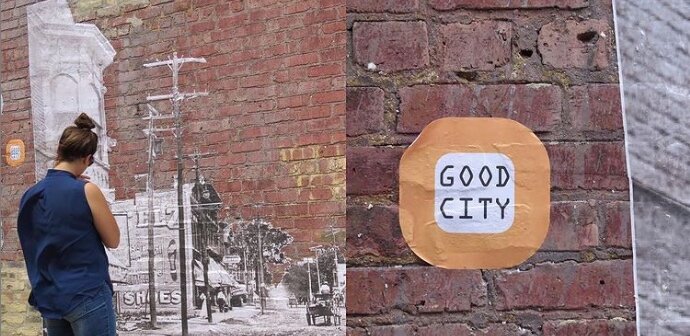 SpaceShift
Address
Devon Ave and Artesian Ave
Description
SpaceShift is a creative hub for collaboration and experimentation. We are a collective of artists, cultural workers and change makers rethinking the ways in which we work, live and create.
In 2021, SpaceShift Collective launched Aao Mil Baithen in Chicago's South Asian neighborhood on Devon Avenue with a series of street level activations. The project continued in 2022 with A Day on Devon–a community zine, and starlight–a temporary community art space. In fall 2023, SpaceShift Collective launches Shamiana–an immersive multi-sensory public art installation. Over the next year, Shaimana will grow across the four corners of Devon and Artesian as a place to grow, a space to gather.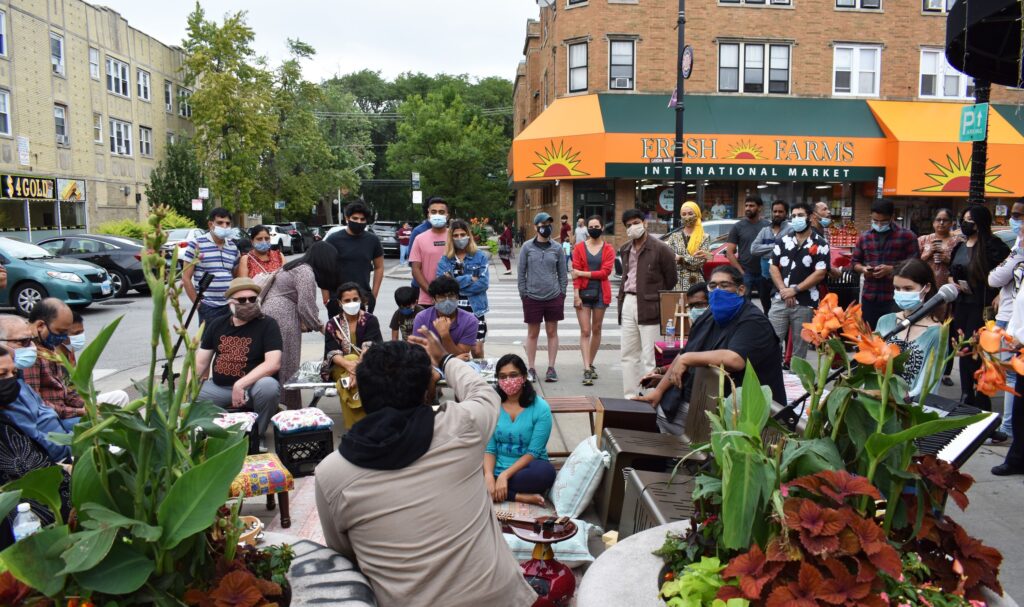 Project Overview
Shamiana
"Shamiana" is an immersive, multi-sensory public art installation and community gathering space in Chicago's South Asian neighborhood on Devon Avenue, an area that concurrently serves as a portal for immigrants and refugees to Chicago. Conceived and designed by SpaceShift with support from Good City Group, "Shamiana" is a joyful canopy structure that creates space for programming, seating, communing, and the exchange of ideas. Underneath the canopy is an interactive garden of vegetables, spices, and herbs that thrive across South Asia, accompanied by an immersive soundscape inspired by the elements of air, water, and earth. The shaded space is activated by community programs which includes performances, story-shares, games, and workshops that explore the tastes and scents of the accompanying landscape. "Shamiana," an evolution of SpaceShift's "Aao Mil Baithen" project, serves as a place for gathering and growth, continuing SpaceShift's practice of placemaking in the neighborhood.
Project Overview
Shamiana
In partnership:
Aao Mil Baithen
Good City Group Special
Special thanks to:
Rogers Park Business Alliance,
Devon Avenue SSA #43 R. David Coolidge Nabeela Rasheed