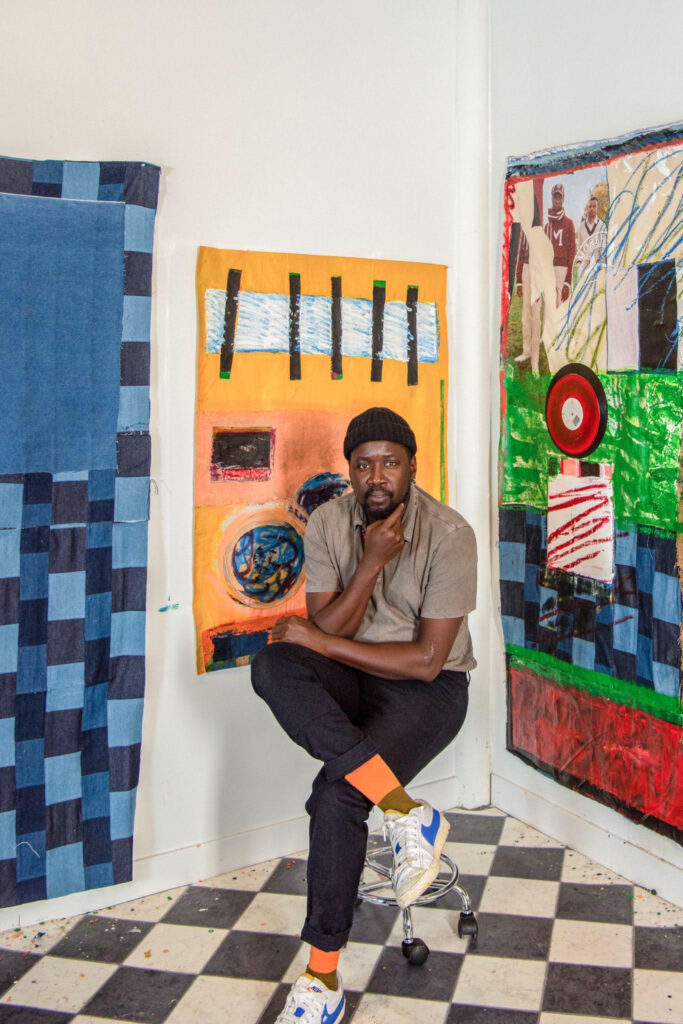 Chicago, United States
In contemporary African visual artist Modou Dieng Yacine's mixed media works, he combines painting and photography to create a dualistic positioning, where both mediums engage and activate one another. This approach provokes what he calls "imaginative lines and multiplicities of layers," continuously applied to the surface. Dieng Yacine often allows the imagination of the painting itself to dictate the medium used in the work. He frequently incorporates materials such as denim, burlap, cardboard, wood frames, and vinyl records, affirming both his African identity and the contemporary lifestyle he experiences. To build his distinct color palette, Dieng Yacine selects tones and shades from the Sub-Saharan desert dust, which he adjusts and layers with the shifting seasonal coloration of the American North. His geometry and forms are influenced by his love for Bauhaus architecture and design, resulting in a spatial implementation of emotional gestures and intellectual decisions on the surface. This confronts the chaos of urban African architecture with postcolonial discourse, intercultural dialogues, and migrations. Having spent the last 20 years between the United States and his native city of Dakar, Senegal, Dieng Yacine now bases his practice in Chicago, Illinois.
Chicago Cultural Center
Address
78 East Washington Street, Chicago, IL
Neighborhood
The Loop
Description
The Chicago Cultural Center serves as one of the main exhibition venue sites for CAB 5 Chicago, featuring projects from more than 80 participants from about ten countries. 
Opened in 1897, the Chicago Cultural Center is a Chicago landmark building operated by the Chicago Department of Cultural Affairs and Special Events and is home to free cultural exhibits and programming year-round.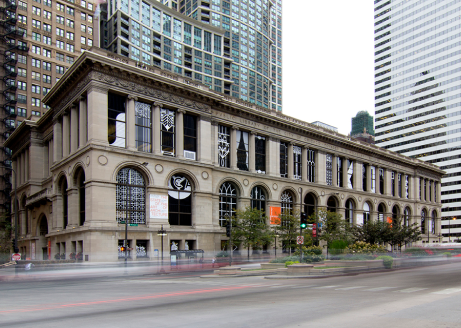 Project Overview
Shelters for Migrants
Modou Dieng Yacine presents "Shelters for Migrants," a presentation  that considers the migrant experience of leaving a familiar space  for an unknown one. While no migration story is the same, the shared  experience is the decision to leave home for some place new. The  reward for the magnanimous act of faith is undermined by challenges  to integrate into society, impediments to making a new home, and  encounters with unwelcoming beliefs. Yacine, who lives and works  in Chicago, questions how the city can have buildings but no shelter.  The works is guided by his own experience with migration and  his empathy for the experience of being homesick and sick of home.  
The rich colors and towering heights of abundant materials in  Shelters for Migrants evoke safety. Yacine's chosen materials— cardboard, denim, burlap, wooden frame, and photographs— are synonymous with survival. He combines them with a vernacular  architecture of shelter borrowed from the streets of urban Africa.  Informed by current events involving migrants locally and abroad,  Yacine created new and incorporated existing works in this  arrangement, which includes paintings bound together with rips in  the canvas and cutouts that serve as windows. Depending on one's  perspective, the space could be viewed as confinement, a home,  or a shack. Yacine's response is one of urgency, and the work aims  to leave the impression that a spirit of abundance and kindness is  needed when creating a home.