Ithaca and Minneapolis, United States
Website
Jennifer Newsom and Tom Carruthers are architects, artists, and co-founders of Dream The Combine where they have produced numerous site-specific installations that explore metaphor, perceptual uncertainties, and the boundary between real and illusory space. They consider these works perceptual frameworks for vision and movement that complicate the relationship between body, space, image, and environment. The scale of their work and the industrial materials they use (steel, glass, construction textiles) link their work to infrastructures that order our reality. They question the rigidity of spatial and social systems by making structures meant to bring people together through visceral experience. Their work serves as a critique of what we take for granted.
Dream The Combine was the winner of the 2022-2023 Rome Prize in Architecture, the 2022 United States Artists Fellowship in Architecture and Design, the 2021 McKnight Fellowship for Visual Artists, the 2020-2021 J. Irwin and Xenia S. Miller Prize, the 2018 Young Architects Program at MoMA PS1, and the 2018 Art Omi Architecture Residency.
Their work has been exhibited at the 2023 Venice Biennale Architettura, The Museum of Modern Art, MoMA PS1, MadArt Studio, and sites in Vancouver, Rome, Minneapolis, and Columbus, Indiana. They have also been featured in publications such as Wallpaper, Metropolis, MasContext, Log, Architectural Design, Curbed, and Reconstructions: Architecture and Blackness in America. Dream The Combine is dually based in Ithaca, NY and Minneapolis, MN.
Graham Foundation
Address
4 W Burton Pl, Chicago, IL 60610
Neighborhood
Gold Coast
Description
Founded in 1956, the Graham Foundation for Advanced Studies in the Fine Arts fosters the development and exchange of diverse and challenging ideas about architecture and its role in the arts, culture, and society. The Graham realizes this vision through making project-based grants to individuals and organizations and producing exhibitions, events, and publications.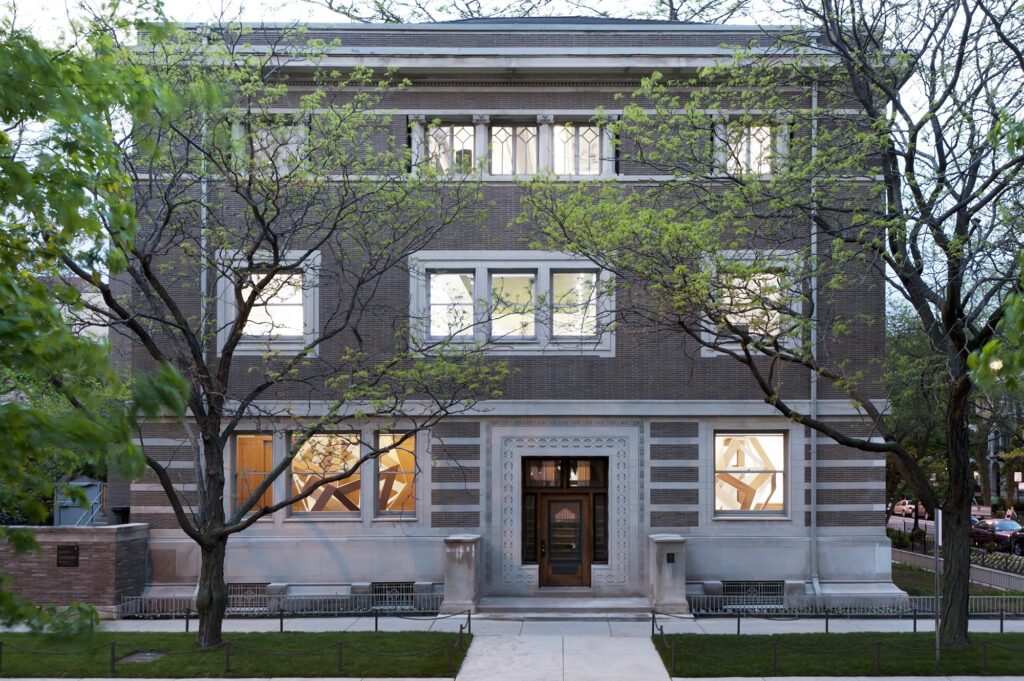 Project Overview
Afterimages III
Dream The Combine is the collaborative practice of Jennifer Newsom and Tom Carruthers. They produce site-specific installations that explore metaphor, imaginary environments, and perceptual uncertainties at the boundary between real and illusory space. Their critiques often respond to the literal and socio-political dimensions of sites in order to destabilize our known understanding of the world. Literally and figuratively, this installation converts ways of seeing—both drawn and photographed—into mechanisms for reflection on the regimes of visuality that perpetuate the devaluing of life.
Afterimages III consists of interlaced components: two sets of photographic images and a drawing in space made of steel elements and lines of projection. These interact to create multiple and entangled forms of seeing within and through the living room and music room of the Madlener House.
One set of images references actual views from the artists' own life inhabiting moments of political struggle in Minneapolis in 2020. They are portals for viewing that time. The other set refers to familiar architectural forms that persist recursively in our shared landscape. They are conceived as "after-befores" where linear time is disrupted.
A drawing in space exists in counterpoint to these images. Typically, in drawing, the horizon establishes the furthest limit of visual perception at the border between earth and sky. Dream The Combine reverses the sense of far distance by bringing three horizons into the room, gently curving through the gallery. Additional steel elements are held on walls within these inscribed worlds, stitched by a wall drawing describing vanishing lines from horizon to figure.
Dream The Combine dedicates Afterimages III to Darnella Frazier, who exercised her own right to look.
Afterimages III is presented for the Chicago Architecture Biennial at the Graham Foundation for Advanced Studies in the Fine Arts as a part of a cycle of works displayed at the 18th International Architecture Exhibition—La Biennale di Venezia, the American Academy in Rome, and an upcoming installation in Minneapolis.