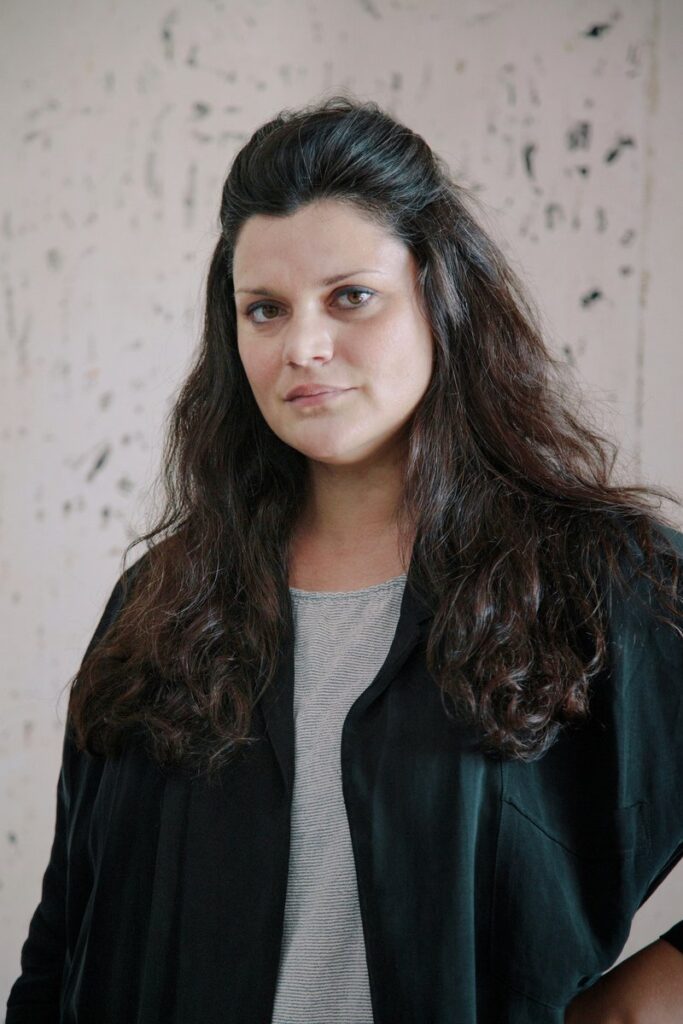 New York, United States
Website
Diana Al-Hadid examines the historical frameworks and perspectives that continue to shape discourse on culture and materials today. With a practice spanning sculpture, wall reliefs, and works on paper, the artist weaves together enigmatic narratives that draw inspiration from both ancient and modern civilizations. Framed by a host of references from antiquity, cosmology, cartography, and architecture, Al-Hadid's work gives form to ghostly images abstractly rendered. The artist's process-based explorations innovate from commonplace industrial materials. Their formidable presence sits steady in the lineage of creation and construction that we associate with the notion of empire, complicated by an often-elegiac tone. Diana Al-Hadid received a BFA in Sculpture and a BA in Art History from Kent State University, an MFA in Sculpture from Virginia Commonwealth University, and attended the Skowhegan School of Painting and Sculpture. She has been the recipient of a Joan Mitchell Fellowship, a Pollock-Krasner Foundation Grant, and received a fellowship from the Smithsonian Artist Research Fellowship Program. Her recent mosaic murals for New York City's Penn Station were among 100 finalists for CODAawards. Al-Hadid has had solo exhibitions at the Bronx Museum of the Arts, in collaboration with Madison Square Park, and the San Jose Museum of Art, amongst others. Her work is included in collections such as the DeCordova Museum and Sculpture Park in Massachusetts, the Whitney Museum of American Art in New York, and the Museum of Fine Arts in Houston.
Chicago Cultural Center
Address
78 East Washington Street, Chicago, IL
Neighborhood
The Loop
Description
The Chicago Cultural Center serves as one of the main exhibition venue sites for CAB 5 Chicago, featuring projects from more than 80 participants from about ten countries. 
Opened in 1897, the Chicago Cultural Center is a Chicago landmark building operated by the Chicago Department of Cultural Affairs and Special Events and is home to free cultural exhibits and programming year-round.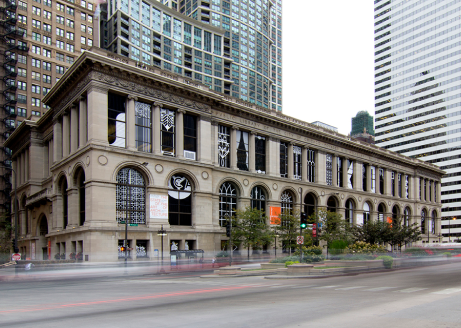 Project Overview
The Long Defeat, 2017–2023
In Diana Al-Hadid's The Long Defeat, a figure emerges through  a series of long vertical elements. Casts of human hands with palms  opened to the sky encircle the figure at the base. The Long Defeat incorporates surviving elements of the artist's destroyed sculpture  Citadel (2017–18), which she exhibited in Madison Square Park,  New York. As with Citadel, Al-Hadid explores painter Hans Memling's  Allegory of Chastity (c. 1475), which depicts an archetypal virgin  emerging from a mountain as two shielded lions guard her.  Al-Hadid's reprisal of the theme follows her recent study of this and  related Memling paintings at Museum Sint-Janshospitaal in Bruges,  Belgium. The title of Al-Hadid's sculpture is borrowed from J.R.R.  Tolkien's concept of "The Long Defeat," in which the never-ending  struggle of good against evil posits history as a long decline from  a state of perfection to one of destruction. Al-Hadid worked on the  piece in an upside-down process that recalls the method of innovative  Catalan architect Antoni Gaudí, who designed his model for La  Sagrada Familia, in Barcelona, upside-down, employing weighted  strings to create arches. Al-Hadid's work was suspended for years in  her studio, and the figure's head is notably overgrown from the  accumulation of enduring effort, thus evincing The Long Defeat. 
Courtesy of the artist and with support from Kasmin, New York