Chicago, United States
Website
Over the past two decades, Chris Bradley has developed a sculptural language around representation, poetics of ordinary subjects, trompe l'oeil techniques, and the exhibition as a site for the imagination. He uses this creative language to encourage his audience to practice suspending disbelief as a method for reconsidering and understanding this shared common world. Bradley has recently presented his work in solo exhibitions at Ackerman Clarke Gallery, Museum of Contemporary Art Chicago, Shane Campbell Gallery, Roberto Paradise, and the Museum of Contemporary Art Raleigh, and has been included in group shows at The Renaissance Society, Atlanta Contemporary, Museum of Contemporary Art Santa Barbara, Museum of Contemporary Art Detroit, the NRW-Forum Düsseldorf, and the Elmhurst Art Museum. He received his MFA degree from the School of the Art Institute of Chicago (SAIC) in 2010. In 2017, he was the recipient of the Meier Achievement Award. In addition to his studio practice, he is an instructor of sculpture at both SAIC and the University of Chicago. Bradley's practice is based in Chicago, IL, USA.
Chicago Cultural Center
Address
78 East Washington Street, Chicago, IL
Neighborhood
The Loop
Description
The Chicago Cultural Center serves as one of the main exhibition venue sites for CAB 5, featuring projects from more than 80 participants from ten countries. 
Opened in 1897, the Chicago Cultural Center is a Chicago landmark building operated by the Chicago Department of Cultural Affairs and Special Events and is home to free cultural exhibits and programming year-round.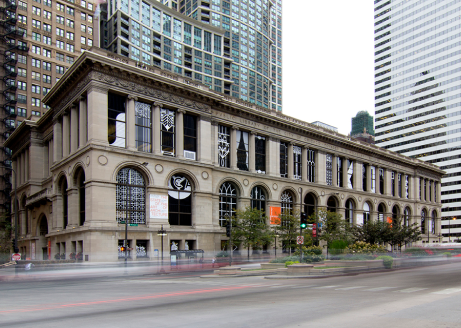 Project Overview
Mnemonic
The cast-bronze pretzel rods of Mnemonic have been accurately  painted to mimic the subject's golden-brown crust, with specks of  salt, and welded together, with epoxy painted to look like chewing  gum at the joints. Standing roughly six feet tall and four feet  wide, the complex and airy form operates somewhere between  abstract sculpture and an impromptu gesture toward an imagined  architecture. Titled after a device or tactic for remembering specific  information, Mnemonic acts as a reminder that the basic urge to be  creative, to play, and to use sculpture translate ideas into form is  intrinsic to the lived experience. Pretzel rods and chewing gum were  chosen as the suggestive building blocks and adhesive for this work  because of their ubiquity and relatability. These common objects  being repurposed as building material also implies that the making  happened urgently and spontaneously, with pretzels and gum  being readily available with newly distinguished potential. The  everyday quality also offers an ease of access, giving the audience  the opportunity to imagine doing the same exercise of building a  three-dimensional form or pursuing another improvisational creative  act by shifting their lens to see and apply common objects in  unconventional ways. 
Courtesy of the Artist