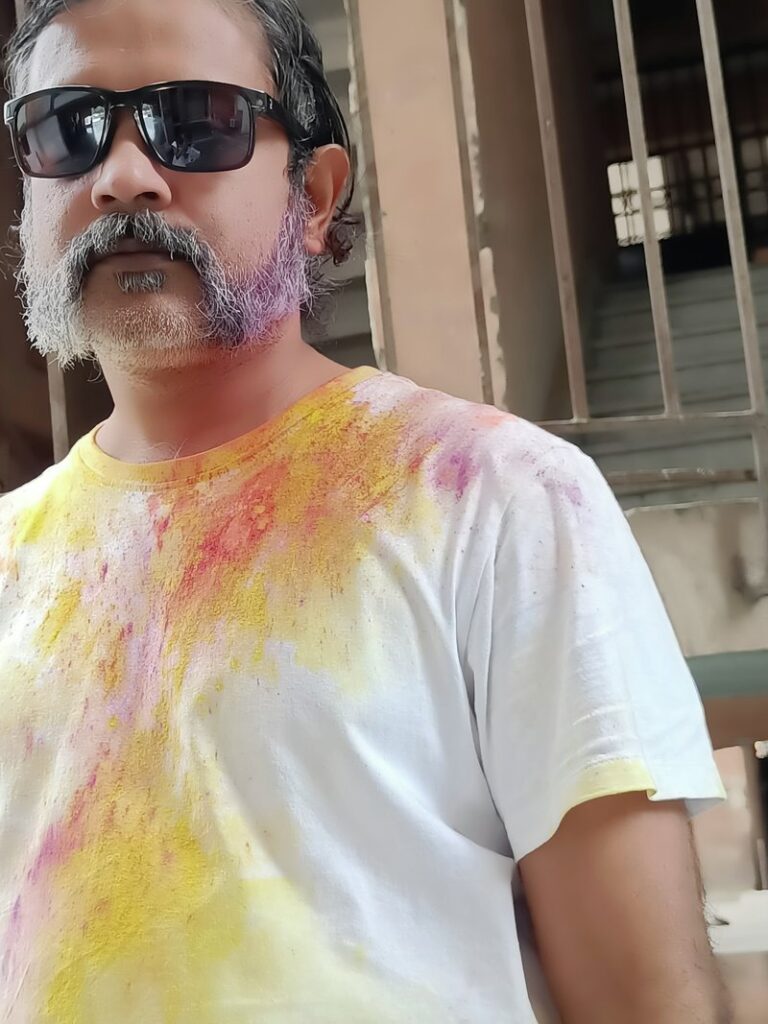 New Delhi, India
Website
Delhi-based Asim Waqif cultivates an arts practice at the intersection of architecture, art, and design, with a strong contextual reference to contemporary urban design and the politics of occupying, intervening in, using public spaces. Some of his projects have developed within abandoned and derelict buildings in Delhi that act as hidden activity spaces for the marginalized. Concerns of ecology and anthropology often weave through Waqif's work and he has done extensive research on vernacular systems of ecological management, especially with respect to water, waste, and architecture. His artworks often employ manual processes that are deliberately pain-staking and laborious though the products themselves are temporary. Waqif studied architecture at the School of Planning and Architecture, New Delhi and is now a visiting faculty there. After initially working as an art director for film and television, he transitioned to creating independent videos and documentaries before moving to a dedicated art practice in 2010. His recent projects have been featured at the Kochi Muziris Biennale (2022); Durga Puja Pandal in Kolkata (2019); Offsite, Vancouver Art Gallery (2017); the 8th Asia-Pacific Triennial (2015); the Palais de Tokyo, Paris (2012); and a residency at the Skowhegan School of Painting and Sculpture, USA (2011).
Chicago Cultural Center
Address
78 East Washington Street, Chicago, IL
Neighborhood
The Loop
Description
The Chicago Cultural Center serves as one of the main exhibition venue sites for CAB 5, featuring projects from more than 80 participants from ten countries. 
Opened in 1897, the Chicago Cultural Center is a Chicago landmark building operated by the Chicago Department of Cultural Affairs and Special Events and is home to free cultural exhibits and programming year-round.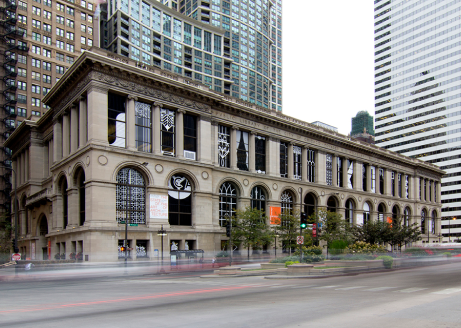 Project Overview
Pretty Wrecked
One of Asim Waqif's recurring research interests is the investigation  of what people and cities do with their discards. During a research visit  to Chicago in June 2023, Waqif toured Ken Dunn's Resource Center  with the Floating Museum's Jeremiah Hulsebos-Spofford. Since  opening the Resource Center in 1975, Dunn has amassed a collection  of waste, from felled trees and crushed aluminum cans to old  construction equipment and piles of textiles. During this visit, Waqif  was drawn to Dunn's collection of spools of black rubber tubing.  The tubes are rejected in full by their fabricator if a defect is detected  anywhere along the length. 
The Chicago Cultural Center's intricate and stately ornamentation  contrasts with Waqif's almost grotesque intervention of rubber  tubing. The work alludes to the exploitative nature of industrial capital  that has produced both the excess of decoration at the Cultural  Center and the accumulation of waste at Dunn's Center.
Special thanks to Ken Dunn at the Resource Center and Mike Cannon, Shawn Chladek,  William Ellis, Trent Ferguson, Ross Garvey, Jeffrey Golden, and Sean McNulty