ArchAgenda Debates: PATRIK SCHUMACHER (Zaha Hadid Architects / AADRL) – Keynote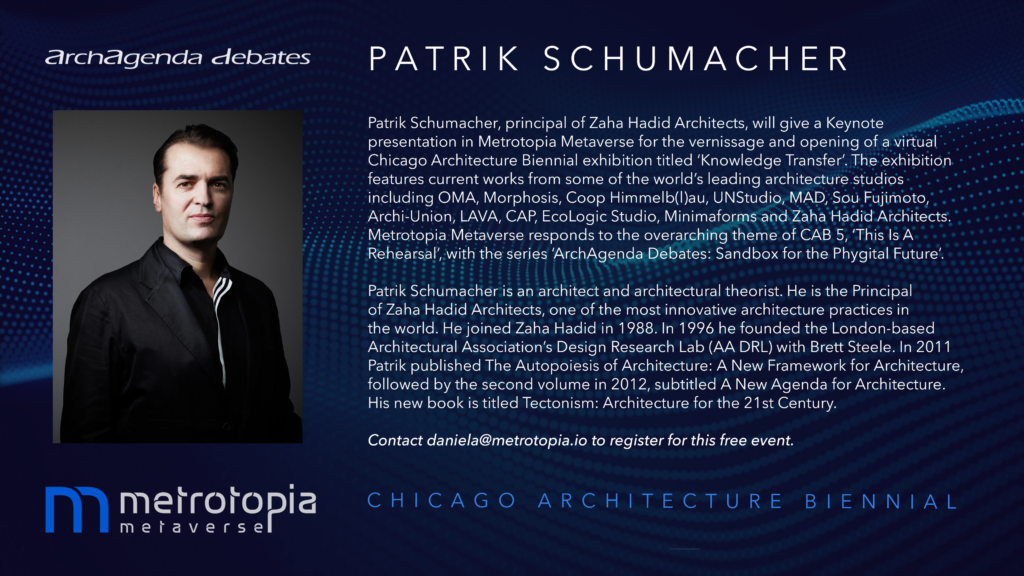 About the program
PATRIK SCHUMACHER, principal of Zaha Hadid Architects, will give a Keynote presentation in Metrotopia Metaverse for the vernissage and opening of a virtual Chicago Architecture Biennial exhibition titled 'Knowledge Transfer'. The exhibition features current works from some of the world's leading architecture studios including OMA, Morphosis, Coop Himmelb(l)au, UNStudio, MAD, Sou Fujimoto, Archi-Union, LAVA, CAP, EcoLogic Studio, Minimaforms and Zaha Hadid Architects. This two-part exhibition in Metrotopia Metaverse (metrotopia.io) and CityX (cityxvenice.io) is currently also part of a Venice Architecture Biennale collateral event hosted by NYIT. Metrotopia Metaverse responds to the overarching theme of CAB 5 put forward by the Floating Museum, "This Is A Rehearsal", with the upcoming series of presentations titled 'ArchAgenda Debates: Sandbox for the Phygital Future'.
Patrik Schumacher is an architect and architectural theorist. He is the Principal of Zaha Hadid Architects, one of the most innovative architecture practices in the world. He joined Zaha Hadid in 1988. In 1996 he founded the London-based Architectural Association's Design Research Lab (AA DRL) with Brett Steele. In 2011 Patrik published The Autopoiesis of Architecture: A New Framework for Architecture, followed by the second volume in 2012, subtitled A New Agenda for Architecture. His new book is titled Tectonism: Architecture for the 21st Century.
Contact daniela@metrotopia.io to register for this free event.