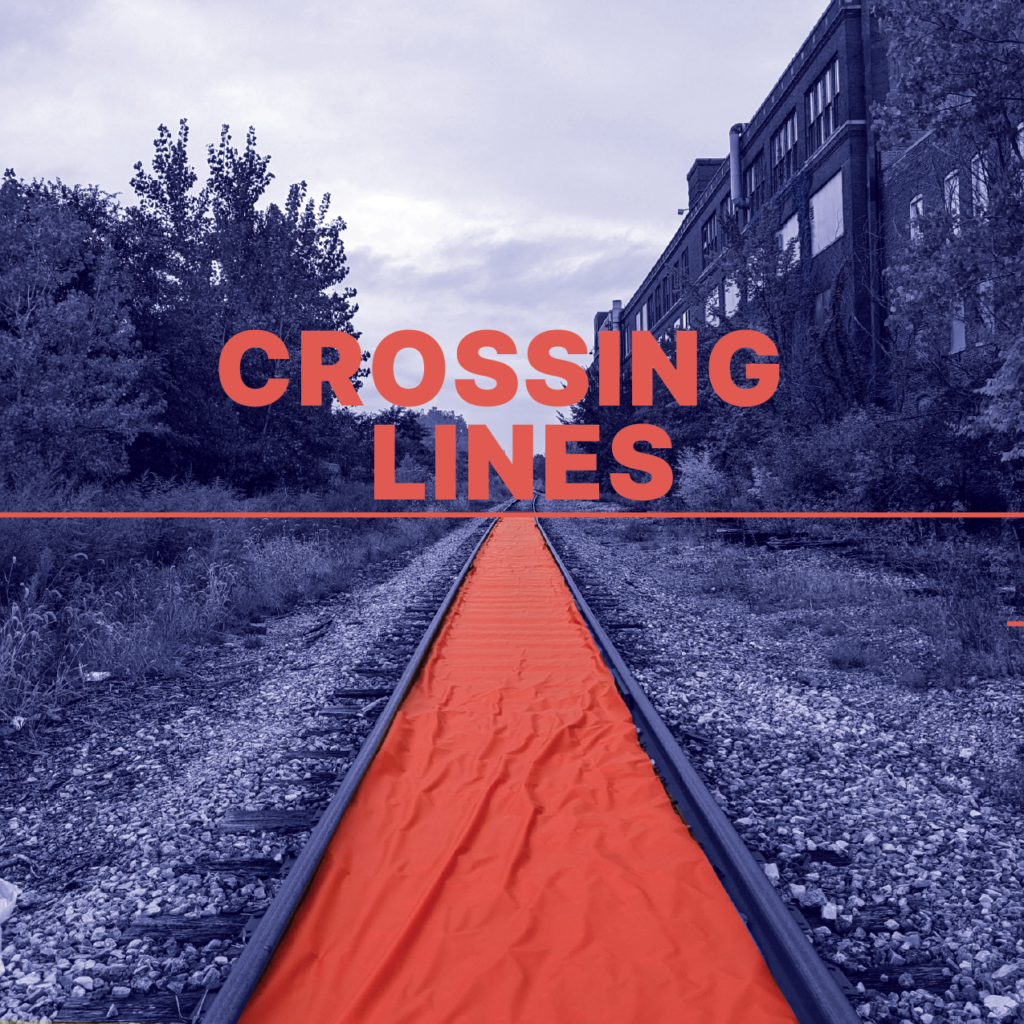 About the program
Both a temporary exhibition and site activation, CROSSING LINES explores how material and immaterial lines impact the people of Chicago, historically and presently. The event will take place in Homan Square, starting with the exhibit on the 14th floor of Nichols Tower with unbeatable views out to Chicago's west side. There will be snacks and water provided.
The second part of the event is a self-guided walking tour along an installation on the Altenheim Line, an elevated, defunct rail that is home to a future rails and trails project. Visitors will have an opportunity to playfully engage with the influence of Lines created by abstracted planning, mapping, legislative, and bureaucratic protocols. The walk is about 30 minutes from start to finish, from Homan Avenue to Kedzie Avenue and back.
Please note: There is only one dirt ramp up for getting on and off the rail, which is located at Homan Avenue. Ground condition is uneven and unpaved. If you want to walk along the elevated rail line, please wear sturdy shoes and weather appropriate attire.
The Foundation for Homan Square has generously donated the 14th floor to host the event for the Chicago Architecture Biennial. Nichols Tower is one the few remaining pieces of the historic industrial campus of Sears, Roebuck, and Company. As the original Sears Tower, Nichols Tower was restored and is home to several neighborhood organizations today.
As part of the exhibit, the Institute of Linear Research will celebrate the release of their new book, "Atlas of Remoteness: Midwest." The book covers walks performed along the LINE in Wisconsin, Minnesota, Iowa, and Nebraska and explores themes of remoteness, property, colonization, and Americana through essays, conversations, maps, images, collages, and sketches.
The Altenheim Line Framework Plan was published in 2022 and lays out the early foundation for creating a "rails and trails" greenway along the current CSX Altenheim railroad corridor through the North Lawndale community area. This greenway would be built as a community amenity as an elevated Rail & Trail. The Framework Plan is intended to guide industrial & commercial development, and a residential housing strategy, to bring new vibrancy and stability to the neighborhood and avoid the displacement pressure that has occured around previous amenities like the 606 trail.